Clifford's Story
At the time I was ten years old, and lived at Haycombe Drive, Whiteway, Bath. On the first night we stayed in a Wood Copse up behind Newton Park college as it is now known. The second night we spent in a Barn at Chaves Farm at Newton-St-Loe.
I remember going to Third Avenue. My Mother's parents lived in No 5 and were both killed in the air raid shelter. My Father's step-dad was also killed and he lived in Herbert Road. My Mother and myself and my two brothers seem to go from one place to another trying to find out were their bodies had been taken to.
One of the things I remember was the clock that had fell out of the tower and lay in the middle of the road, from a church that used to stand where Woolworths was built on after the war.
Comment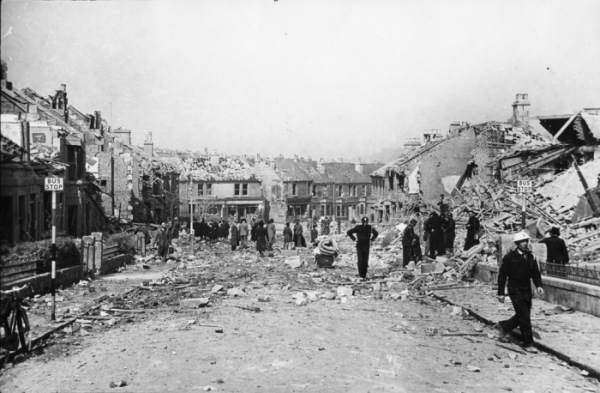 This picture shows part of King Edward Road, with Third Avenue across the end of it. No 5 Third Avenue, where Clifford's grandparents lived is out of sight behind the buildings on the right of the picture.
The church that "used to stand where Woolworths was built" was St James Church (there is a picture of the inside of this church in Joy's story). Woolworths no longer occupies the premises: Clinton Cards was there until early 2006, and the premises is now being converted for Boots to move into.
---
If you can't find where you want to go next using the navigation buttons at the top of this page, this button Index will take you to the page containing the complete site index.