Joy's Story
On the night of the Bath Blitz, five-year-old Joy was living with her mother and baby sister in the top floor flat of Gable House, 5 Stanley Road opposite what is now the Bus Station.
My father had been called up late in 1938, and had earlier that week been home on a 48-hour leave before going overseas. Although we didn't know it at the time, he was about to be sent to the Faeroe Islands. My sister was christened at St. James' Church during his leave and I was very proud because I was asked by the Vicar to tell everyone her name.
I was woken by the Air raid Siren and put my clothes on over my pyjamas, while my mother gathered up the baby's bottle, nappies etc. We hurried down the five flights of stairs meeting up with the people from the other flats. We then went through a door and down more stairs to the cellar. I had never been there before and was surprised to see a collection of old chairs, a card table and a sofa. The people were carrying knitting, books, packs of cards and torches of different sizes in anticipation of a long evening.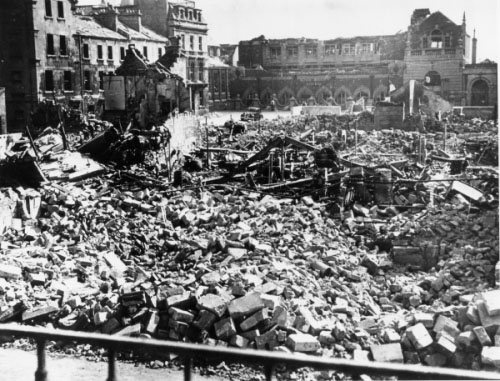 Then the noise started! Bangs and crashes were getting nearer and nearer and some of them made my ears hurt. The ground shook and the room filled with a thick choking cloud, made up of soot, old dirt and stone dust. It went into our eyes, noses and throats and made it difficult to breathe. It seemed to go on for hours!
In the picture, Joy's home was the tall building, top left. You can see how close the main bomb damage came. Other pictures of the damage in this area are here.
Whenever the noise seemed to move away the ladies tried to play 'I Spy' with me and Philip, the boy from the third floor flat. Even in this situation I thought it was funny because by this time we were only using one torch to save the batteries!
Eventually the noise quietened down and the one man in our party decided to go upstairs to see what was happening. Then there was a bit of a panic because he couldn't open the door and we all thought that we were trapped in there. After a lot of shouting and banging someone called out "Wait for the All Clear, we know you are there".
At last we came back up the stairs into the hall. The first thing I saw was the front door leaning against the wall. It had been blown off its hinges and it was this door which had been blocking the cellar door. The hall tiles were all covered with splintered glass, stones, broken slates, pieces of banisters from the stairs and a thick layer of black dust. This was still hanging in the air, smelling and tasting very unpleasant. My mother burst into tears and sobbed at the sight of my sister's cream carriage pram, which was full of debris and certainly not cream anymore.
This all took place five weeks before my fifth birthday. After that I now realise I cannot remember anything for the next six months probably because of the delayed shock of my experiences. That is, with the exception of four flashes of memory which are -
(1) Later that day meeting my grandfather who was crying because he had just been told that the three of us were 'gone' which not surprisingly he thought had meant dead.
(2) A little later on being carried up the stairs to our flat by my grandfather as my legs were so tired and so was I. While my mother and grandfather tried to salvage some of the essentials I stood on the landing holding the baby. I could see into the living room. The windows had been blown in and everything was covered with broken glass and other rubble. I looked up and there was no ceiling where the attic should have been. Through holes in the roof I could see the sky.
(3) That night having arrived somehow out of the city at Combe Down, I was laying against a stone wall when someone shouted at my mother to get rid of the baby's white shawl because it would attract the German bombers to us. I was very frightened.
(4) The next day walking by St. James' Church which was on fire.
As my mother never talked about what happened to us and just like most other people she just tried to sort things out and carry on, I could never ask about this.
However as a postscript, in 1966 our eldest son was christened in Bath Abbey and my grandmother told the Rector that she thought my sister was the last baby to be christened at St. James'. I told her what I remembered and she immediately said that I had been with her walking down New Orchard Street when a smouldering incendiary had flared up. From my height at that time looking up at the empty windows, it must have appeared that the whole church was on fire!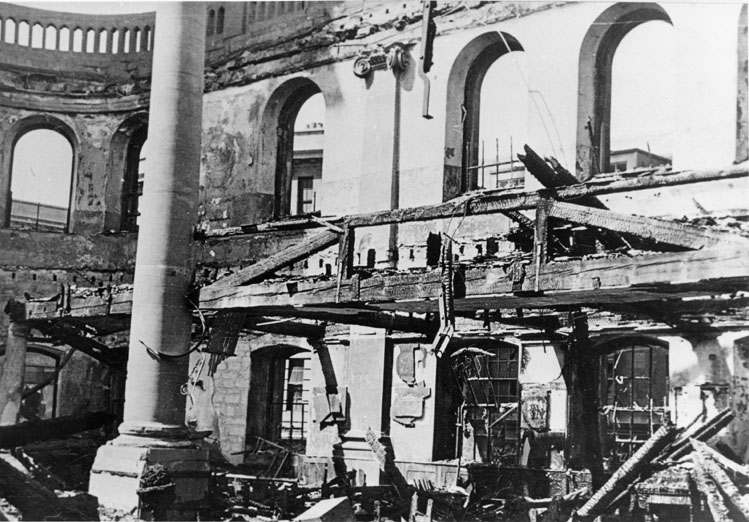 In this picture of the inside of St James Church, the charred timbers remaining after the fire was put out can be clearly seen
Comment
Joy lived on the fourth floor of the tall building shown still standing in the top left of the upper photograph, and Joy herself provided that photograph. That building no longer exists, and Ham Gardens car park occupied that area until it was demolished for the building of the new Southgate Centre.
To help you get your bearings in modern Bath, Stanley Road is now renamed Railway Street, a bus station occupied the area shown as an expanse of rubble in the picture, eventually replaced by the shops in Southgate Place; and the building in the background (top right of the photograph) used to be a factory in Manvers Street making Bath Oliver biscuits, which has been replaced by a modern building housing an accountancy company, which stands alongside the Manvers Street Baptist Church.
St James Church used to stand where Lower Borough Walls runs into Henry Street, a location which has since had a series of businesses occupying it including Woolworths, Clinton's Cards, and now Marks and Spencer.
---
If you can't find where you want to go next using the navigation buttons at the top of this page, this button Index will take you to the page containing the complete site index.