Bomb Types
Facts And Figures About The Bombs
The figures below, by numbers and by aggregate weight, are best estimates rather than exact figures. Because the Civil Defence records were destroyed during the bombing, separate figures of the bombs that fell in the first and second raids were lost, and a total figure for the first night is all that is available.
Type

Description

1st Night

2nd Night

Total

1800Kg
HE

Similar appearance to 1000Kg;
375cm Long, 66cm diameter

None
= 0Kg

2
=3600Kg

2
=3600Kg

1000Kg
HE


255cm Long, 66cm diameter

19
=19000Kg

3
=3000Kg

22
=22000Kg

500Kg
HE


205cm Long, 46cm Diameter

82
=41000Kg

36
=18000Kg

118
=59000Kg

250Kg
HE

Similar appearance to 500Kg;
165cm Long, 37cm Diameter

102
=25500Kg

63
=15750Kg

165
=41250Kg

50Kg
HE


110cm Long, 20cm Diameter

36
=1800Kg

22
=1100Kg

58
=2900Kg

1Kg
Incendiary


37cm Long, 5cm Diameter

1927
=1927Kg

2429
=2429Kg

4356
=4356Kg
Delivering The Bombs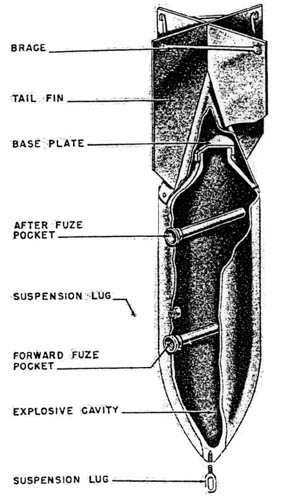 Most of the attacking planes could carry 250Kg bombs, and adaptors were available to mount four 50KG bombs in the space where one 250Kg bomb could be carried. The larger planes could carry several 500Kg bombs or two 1000Kg bombs or one 1800Kg bomb.
These weights were of the complete bomb. The explosive charge inside the bomb was typically just under half (47% on average) of the overall weight of the bomb.
Apart from the Incendiary, which was made of magnesium so that it burned with a fierce heat, the bombs were all made of a thin steel case containing an explosive mixture of chemicals and a detonator (or FUZE in the diagram).
These were designed to be dropped on land, and would create a lot of blast damage. The same explosive mixture in different shapes and thicknesses of case made other types of bomb designed to penetrate armoured steel (for use against tanks), concrete (for use against defensive positions) or water (for use against ships and submarines). None of these variants were dropped on Bath.
The bomb in the diagram is the 250Kg bomb, but all were of very similar construction. The suspension lug was for lifting and manoeuvring, and it could be screwed into the nose or the balance point on the side of the casing depending on the equipment used to lift it.
This picture below gives the relative sizes of the bombs. From front to back are the 50Kg, the 250Kg, the 500Kg (in the wooden frame), the 1000Kg (nicknamed by the Germans "Hermann") and the 1800Kg (nicknamed by the Germans "Satan"). The bomb right at the back appears to be a 50Kg variant.
The incendiary, which is not included in the picture, was a third of the length and a quarter of the diameter of the 50Kg bomb.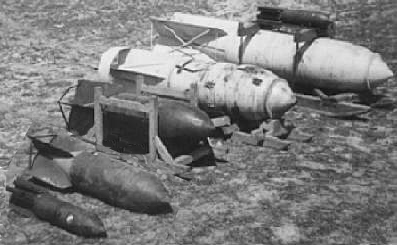 ---
If you can't find where you want to go next using the navigation buttons at the top of this page, this button Index will take you to the page containing the complete site index.