Rocky's Story
Sixteen year old 'Rocky' was a Civil Defence messenger based at the warden's post on the top of Twerton Round Hill.
When the sirens sounded on the evening of the 25th, I cycled to the wardens' post and reported for duty. Nothing happened in our area and when the all clear sounded I returned home.
The sirens sounded again. I got out of bed and went downstairs, got dressed, but in the dark and I couldn't find my boots. This saved my life because I would have been cycling down the road when a bomb landed there, a second on a side road and a third across the other side of Roundhill Park, followed by machine-gunning. The windows had blown out and you could hear the bullets smashing the tiles.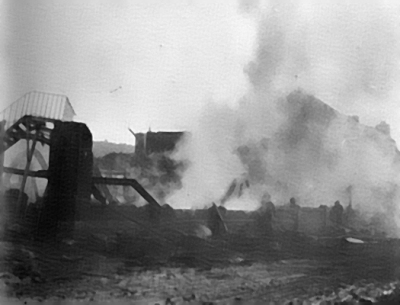 As the phones were out of order I made the trip from the post to Civil Defence Control throughout the bombing. My closest mishap occurred as I was cycling towards the Windsor Bridge, past the gasworks, which were on fire (pictured).
The going became so bad because of the debris in the road that I had to proceed on foot and carry my bicycle.
It got worse as I reached the bridge, but because of the light from the fires I noticed that I was just about to fall into a bomb crater to one side of the bridge, with water at the bottom. The bomb had landed right on the edge of the bank.
I continued to and fro all night carrying messages. As daylight came, I discovered that the alternative route I had been using, down Lansdown View, had an unexploded bomb on the corner of Albany Road and Lansdown View, just before the railway bridge.
Comment
Rocky was not his real name, but it is what he was usually called.
---
If you can't find where you want to go next using the navigation buttons at the top of this page, this button Index will take you to the page containing the complete site index.