Sergeant Brown's Medal
Included in Barbara's Story were her memories of going to Buckingham Palace with her father to receive the British Empire Medal.
The medal was awarded "For gallant conduct in carrying out hazardous work in a very brave manner". Sergeant Brown had rescued Mr Sellar and his family from a flat above a shop in Wellsway.
According to the Bath Directory of 1940, the shop's address was Number 2 Wellsway, it was called "Wellsway Drapery Stores" and the owner was Mr Valentine Sellar.
The last address in Wells Road also belonged to Mr Sellar and was a gentlemen's outfitters.

This means that Mr Sellar occupied the corner premises and the one next to it with the pediment. It is this latter building that was most probably Mr Sellar's residence.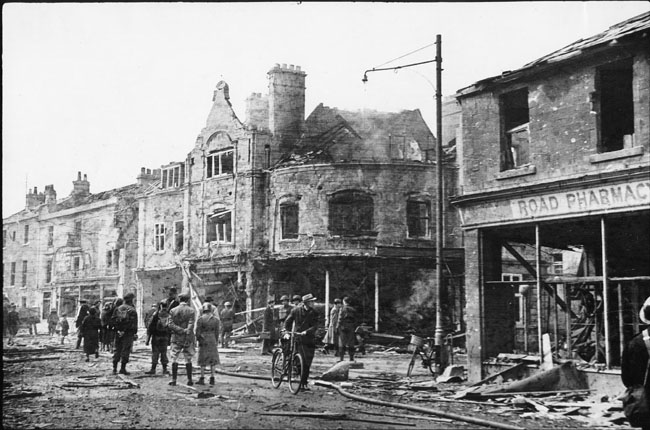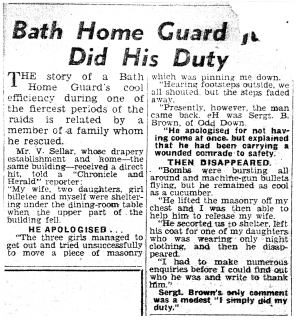 The following news item from the Bath Chronicle and Herald describes the rescue.
Bath Home Guard Did His Duty
The Story of a Bath Home Guard's cool efficiency during one of the fiercest periods of the raids is related by a member of the family he rescued.
Mr V Sellar, whose drapery business and home - the same building - received a direct hit told a "Chronicle and Herald" reporter:
"My wife, two daughters, a girl billetee and myself were sitting under the dining room table when the upper part of the building fell.
The three girls managed to get out and tried unsuccessfully to move a piece of masonry, which was pinning me down.
Hearing footsteps outside, we all shouted but the steps faded away.
Presently, however, the man came back. He was Sergeant B Brown of Odd Down. He apologised for not having come at once but explained that he had been carrying a wounded comrade to safety.
Bombs were bursting all around and machine-gun bullets flying but he remained as cool as a cucumber.
He lifted the masonry off my chest and I was able to help him to release my wife. He then escorted us to shelter, left his coat for one of my daughters who was only wearing night clothing and then he disappeared.
I had to make numerous enquiries before I could find out who he was and write to thank him."
Sergeant Brown's only comment was a modest "I simply did my duty".
---
If you can't find where you want to go next using the navigation buttons at the top of this page, this button Index will take you to the page containing the complete site index.