Willi's Story
Background

Willi Schludecker was a German bomber pilot during the war. He flew the Dornier DO.217, a heavy dive-bomber (pictured). His unit was Kampfgeschwader II and he took part in the raids on Bath.
On Friday 25th April 2008, he visited Bath to apologise for his part in the bombing of Bath, at an event organised in the Oldfield Park Memorial Garden. The programme was headed "We must forgive but never forget". Afterwards, we asked him for his story.
His memories have been translated by his friend Richard Flohr-Swann (Willi speaks no English), and although the memories that follow are written as though they are a complete story, they were provided as several parts, and I have edited them together.
Willi's Own Memories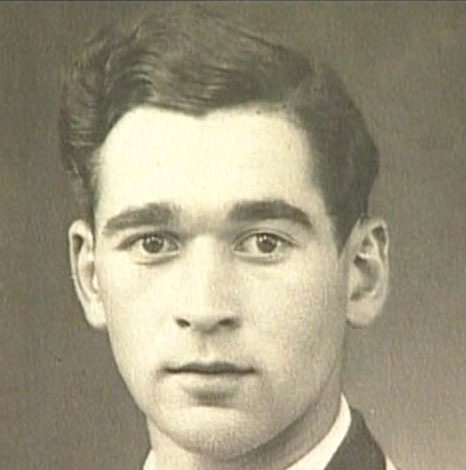 When I joined the Air Force, I was very young and I just wanted to fly. I did not think much about the future. But when I started flying operational missions, I soon realised the dangers of my job and then I lived only from flight to flight. You must understand that the average survival time for a bomber pilot flying over Great Britain was only seven missions.
Between April and July 1942, when I was 22-years old, I took part in attacks on England, from bases in Holland and France. In April 1942, I took part in the first two raids on your city during the Bath Blitz. On the occasion of the third attack, I had to return to base before reaching the target, due to engine failure on the left engine.
I still have a copy of my flight log. It shows that On the 23rd and 24th April 1942, I took part in the raids on Exeter.
On the 25th it shows: Take off from Evreux at 2208 for Bath. Attack height 1200m in target area. Some flak and spotlighting. One twin engined nightfighter going after me. Returned to base 26th at 0055.
On 26th it shows: Take off from Evreux at 0343, head for Bath. Attack height 1600m. Returned to base at 0642.
On 27th it shows: Take off from Evreux at 0042, head for Bath. Engine failure (left engine) 2800m. Bombs dropped near Portland. Returned to base at 0253.
My engine was repaired during the 27th and according to my log I took off for a test flight at 1618, landing again at 1747, and then at 2333 I took off for a raid on Ipswitch and Northampton.
There was a test and experimental unit based at Chartres, south-west of Paris, which for nearly two months had been carrying out proving flights against England using advanced electronic bombing aids that required them to fly along narrow radio beams accurately laid over the intended target. Willi confirms that it was not used for the attacks on Bath.
There were rumours that Churchill himself and high ranking marine planners from the Navy were in Bath. It was not just the Dornier DO.217 bombers from Kampfgeschwader II, that were ordered to attack, but also at least two other squadrons with Junkers Ju88 and Heinkel He111 were involved in the raids. My target was the city centre. I was not informed how Bath was protected.
I do not know the orders given to the other aircraft, only my own. For these raids the system of radio beams from Norway and France were not used to locate the target. (For details, see box on right.) Apart from the last raid where I had to turn back, I successfully arrived over Bath.
The Dornier 217 had a crew of four. We navigated our own zig zag route to avoid night fighters. During the flight, the gunner and the radio operator were ordered to lie on the floor, look down through the glass, and report any flash from the barrel of an ack-ack gun. If anything was spotted, I immediately changed the plane's direction. There was a short time between seeing the flash and the shot reaching our flying height, and this method gave us the best chance of avoiding the flack.
I had no contact to the other bombers. During the flight we had to maintain radio silence, so all the aircraft were flying completely on their own, even though all had the same destination.
If two land stations a known distance apart identify the angle from which the radio transmission comes,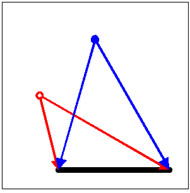 then it is possible to plot on a map the location of each plane.
The only time the radio was used was when each plane was over its target and had dropped its bombs. Then they had to make just one radio transmission, which was to say: "Dropping at time xx:xx", giving the exact time. With this one transmission on long range short-wave radio it was possible, by crosschecking the radio waves when the message was received, to verify that the plane had been over the target. (For details, see box on right.) I had not received any complaints for not having been over my targets, which confirmed that I had successfully navigated to Bath each time.
Of course, at that time I was not aware of the awful damage our bombardment had caused. But only now, on my first visit to Bath, have I seen all of the pictures taken on the ground here after the attacks. I am deeply touched by the pictures I have seen and I realise that the war caused dreadful harm to your city and its people.
The only thing I can do now is to ask you all for forgiveness for any pain that I might have caused and any damage that I might have inflicted when I came to your city in 1942. Please accept my sincere apology.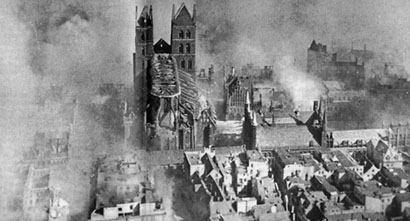 I have visited England many times in recent years, usually in the company of my friend Bill Norman, a war historian living in Yorkshire. I have found that everywhere in England where people allowed me to say sorry, I have found new friends. The English people even told me, that I had only done my duty, just as their own pilots had done. (The picture on the left is a reconnaissance photograph of Lübeck in North Germany after a British air raid in March 1942.)
Bill arranged for me to meet with the British fighter pilot Peter McMillan, from Hove, near Brighton. Peter had almost shot me down off the East coast of England in July 1942. He damaged my aircraft so badly that I had to return to my base in Holland. My flight ended with a crash-landing (see picture below) that put me in hospital for five months. After that, I did not fly any more bombing attacks against England. Thereafter I was ordered to be a flight instructor.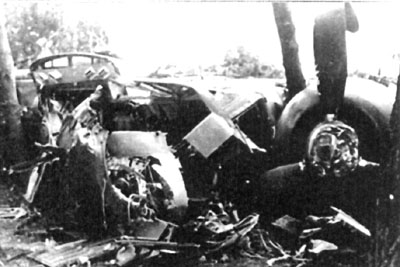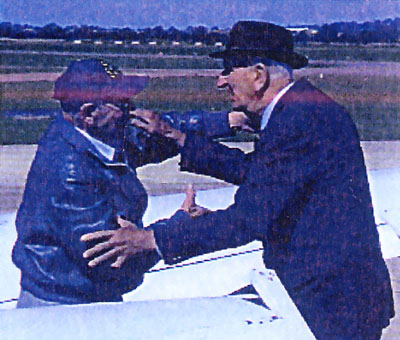 So my friend, Peter McMillan had helped me to stay alive. I have much to thank him for. When Peter and I first met in the spring of 2000 (see picture) we, the former adversaries, found that, despite all the odds, we were made from the same stock; we had the same passion for flying. We hugged one another and became friends. It is a real pity that he cannot be with us today. He passed away last year.
The war between our two countries caused dreadful damage to towns and cities on both sides, and the citizens of both of our countries paid a heavy price. For our common future, we have to do everything possible to avoid such a horrible war ever happening again. In war, there are only victims on all sides. War is madness. Let us together think of and honour all of those victims in a credible way.
I thank Mr Kilminster for his invitation to Bath, and I appreciate the warm reception I have received in this beautiful city. And I thank you all for allowing me to speak to you.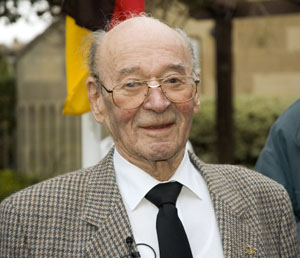 Obituary
On 17th June 2010, at the age of 90, Willi died in a hospital in Cologne with his daughter at his bedside.
Under his signature above is the abbreviation KG2 which was his unit, Kampfgeschwader II. This unit was retained in existence just for Willi who was the last surviving member still capable of flying. Now that he has died, the unit is being disbanded, and we are told that the unit flag will drape Willi's coffin as he is given a military funeral.
The cause of his death was given as complications resulting from pneumonia. Before that, Willi was healthy enough to have arranged another visit to Bath in July 2010, a visit which he was looking forward to very much. Those who he was due to meet on his arrival will be saddened by his sudden death.
---
If you can't find where you want to go next using the navigation buttons at the top of this page, this button Index will take you to the page containing the complete site index.