Green Park Buildings East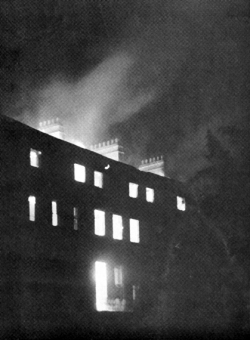 Most of the East Wing of Green Park Buildings was destroyed by incendiaries. The Fire Service records showed that an estimated 30 fire pumps were needed to tackle the blazing terrace, but initially only 13 were available. As other fires elsewhere were put out, more pumps were brought to Green Park, so that four hours after the fires started, 20 pumps were in use. This was the maximum number that was used, and the fires were declared "under control" soon afterwards, though they took 32 hours to put out completely. Even so, something still smouldered, because two days later, a fire broke out again, which the Fire Service quickly put out.
Number 3 Green Park Buildings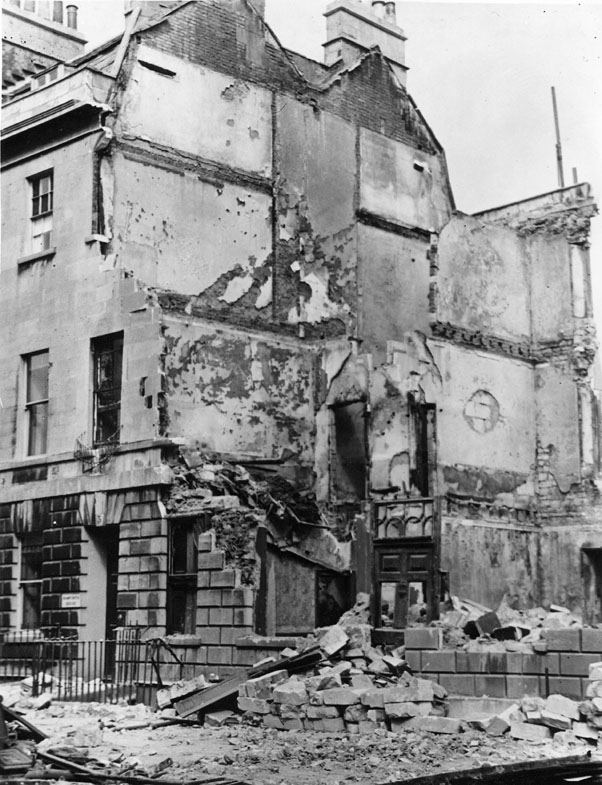 Picture from the Bath Library collection
The East Wing of Green Park Buildings was extensively damaged: only Number 2 (to the left of the photo) the building housing Dr Scott-White's surgery, remained partially usable, and that was subsequently demolished.
In 1804 and 1805, Number 3, the ruined building to the right of the photo, was the residence of Jane Austen, her parents and her sister Cassandra.
Where the East Wing once stood is now under the road surface of Green Park Road.
The West Wing of Green Park Buildings was restored and remains today (now named just "Green Park").
Use this Next button to view the picture pages in sequence.
---
If you can't find where you want to go next using the navigation buttons at the top of this page, this button Index will take you to the page containing the complete site index.