Brian's Story
I was ten years old at the time but after almost sixty years some images recur. I can recall how life in Brook Road, Twerton was before the attacks and a few family names come to mind.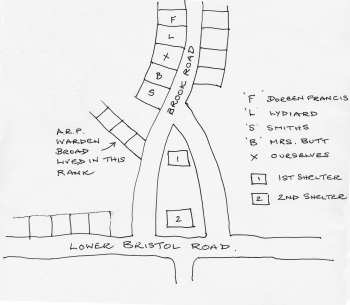 There were the Smiths at the bottom corner of the street, old Mrs. Butt a few doors up, another Francis family with a daughter 'Doreen', the Lydiards, and the Ashmans.
Sometimes a Welsh lady would call selling cockles from a round wicker basket balanced on her head. From Jones's Bakery came lardy cakes, thick with toffee-like sugar and other delights.
Although the war ground on elsewhere, it seemed to be just something I avidly read about in the 'Dailies'. All that was to change one April night, however, and my first impression was of our family (minus Dad who was on night shift at Stotherts), being assembled in the hall, the floor of which was covered in broken glass and other debris.
The local A.R.P. Warden, who was, I believe, Mr. Broad, was urging us to go to the public bomb shelters of which there were two on a patch of spare ground. I can still see the fiery glow beyond our front door as Mr. Broad ushered myself, my mum, my six year old sister and baby brother of a few months along, putting myself on his back.
As we rounded the corner the shelter came into view and revealed the sight of more wardens or firemen attempting to extinguish a gas main blaze almost at the entrance of the shelter. Everything was smoke, noise, dust and the road was thick with earth. In order to get to the second shelter we had to pass by the blaze that was attracting the attentions of the bombers and as we did so the air was full of the sound of a plane very low overhead.
Mr. Broad threw himself and me full length on the ground. I remember suddenly being at close proximity to clumps of earth and stone. Then perhaps I blacked out as the next thing I recall was being in the second shelter with my family and for some hours listening to the whistle and crump of bombs all around as we tried to sing all the cheerful popular songs of the day which, I recall, did not include 'Keep the home fires burning'.
The next most vivid memory is of the next morning, to learn that our house had vanished and all of our possessions were now loaded on to my baby brother's pram. We walked dazedly along the Lower Bristol Road to try to get a bus to Radstock where my maternal Gran lived.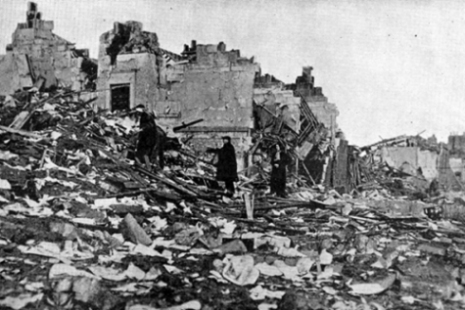 Whole rows of humble terraced houses appeared to us to be in ruins as we were given tea and biscuits by the angels of the W.V.S. (The picture shows Elm Grove Terrace, the row of houses along the Lower Bristol Road that Brian has marked on his road layout diagram. There is another photo of this area in the Photographs section)
We emerged relatively unscathed from this experience. Mum had a cut head and I had a piece of metal embedded in the bridge of my nose. I still have the scar which I call my 'war wound' and my ears had a continuous whistle which lasted for about ten days.
Looking back we were very lucky on several counts. Firstly that the nearest shelter, which had the gas main beside it, was hit, as we were later told. Also, had we elected to shelter under the stairs, we would be no more. Thirdly, if the object buried in the bridge of my nose had struck an inch or two either way I would have lost my sight.
It seems an odd thing to say but 'Lucky us!'
Comment
Although Brian's diagram of who lived where seems to show them all next door to one another, there were houses in between. The Smiths lived at number 7; Mrs Butt at number 9; the Lydiards were at number 12; Mrs Francis was at number 14 and the Ashman family lived on the opposite side of the road, at number 73. Warden Broad lived at number 4.
Jones's Bakery was a couple of streets away, in Caledonian Road.
Stotherts, where Brian's father worked, was Stothert & Pitt Ltd, an engineering company with a large factory complex near Midland Bridge. They were manufacturing parts for tanks, minesweepers and torpedoes during the war.
---
If you can't find where you want to go next using the navigation buttons at the top of this page, this button Index will take you to the page containing the complete site index.