Churchill House
Expert Opinions
GEORGIAN GROUP, London.
... Churchill House is a competent Classical composition, which arguably contributes to the character of the city and if retained would enhance the architecture of the Southgate redevelopment.
SAVE BRITAIN'S HERITAGE, London
... The proposed new Southgate redevelopment in the Classical idiom is still not sufficient recompense or justification for the demolition of Churchill House.
TWENTIETH CENTURY SOCIETY London
... Churchill House is a very successful building and makes a positive contribution to the conservation area it is located in. It impresses through its well proportioned facades. The building is a local landmark and its demolition would mean the loss of a very good piece of early C20th architecture for Bath. We are disappointed to learn that the council has approved the demolition and agreed to the loss of this very good building.
ANCIENT MONUMENTS SOCIETY, London
... Churchill House is a good example of inter-war Classicism; it would obviously be far preferable to retain it as part of the Southgate redevelopment.
PTOLEMY DEAN, architect & conservation expert (BBC, 'Restoration' series)
... Churchill House is one of the last remaining examples of fine architecture in the Southgate area of Bath. There is no reason why it cannot be retained and restored. It is an important defining structure for that pert of the city. I have long admired the building.
Why Churchill House Was Special
CHURCHILL HOUSE was a fine example of early 20th century architecture. Built in 1924 and extended 1931/2, it was designed by local architect W A Williams. The building blended Classical architecture with the contemporary design of the day (Art Deco/Bauhaus). It was one of the finest and most important examples of the period in Bath. As Bath is essentially a city of Classical architecture, it was vital that Churchill House be preserved, as it was a unique and irreplaceable component in the evolution of Classicism over the last 300 years in this World Heritage City. The building was also an important part of the city's industrial and social history, as well as a tribute to local craftsmanship.
Importantly, from at international design viewpoint, the architecture of Churchill House was a very rare and perfect illustration of how the late neo-Classical period of architecture, 1800-35 (Schinkel, Soane, etc) was the direct source of inspiration for international design movements of the early 2Oth century, such as Art Deco and Bauhaus (early exponents: P Behrens and W Gropius). This was the very reason Churchill House looked a perfect Classical piece, but stood out as a modern building of the 1920-30s at the same time. W A Williams, the Architect, almost certainly did this with the express intention if giving Bath a special piece of architecture. It was a real stroke of genius on his part and made the building all the more important within the context of a present day World Heritage City of Classical architecture.
Unfortunately, English Heritage refused to list it because at the time the request was made there was already a planning permission in place for its demolition, and the council refused to save it. This is what they wanted in its place! Note that the architect was so unsure of its worth that he placed a tree in front of it; a tree that was never intended to be planted and dos not exist.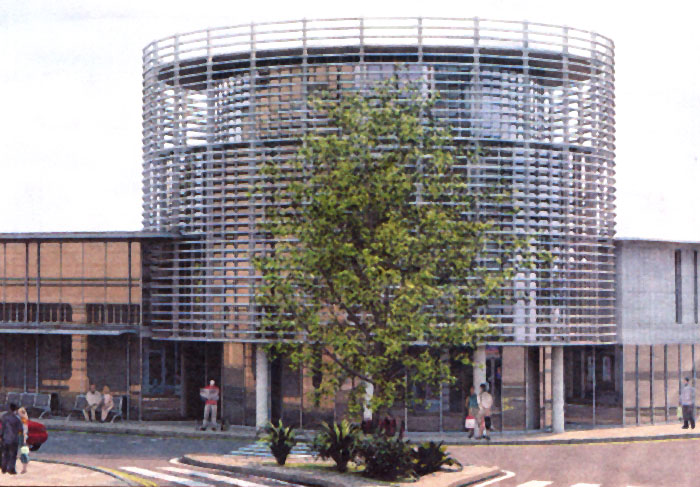 Commentary In Song
Bryan Chalker has recorded a light-hearted version of an old song which includes reference to Churchill house. Copies were distributed to local radio and TV stations to raise awareness of heritage in danger.
This website includes a short sample. (Dial up users are advised that to play it will take about 5 minutes of download time: it could be better to right click and store the sample on their PC first.)